La Cremà of Fallas 2023 – Burning the Municipal Figure & Two Unexpected Explosions
Wow! We've finally arrived to the last day of Fallas and the final act of Valencia's epic, nearly three-week-long festival. The 19th of March is a big day — we had just seen the wild Cabalgata del Fuego, and had just enough time for a little rest, and tapas at the Plaza Redonda, before it was time for La Cremà: the burning of the Fallas monuments. This year, there were over 700 such figures.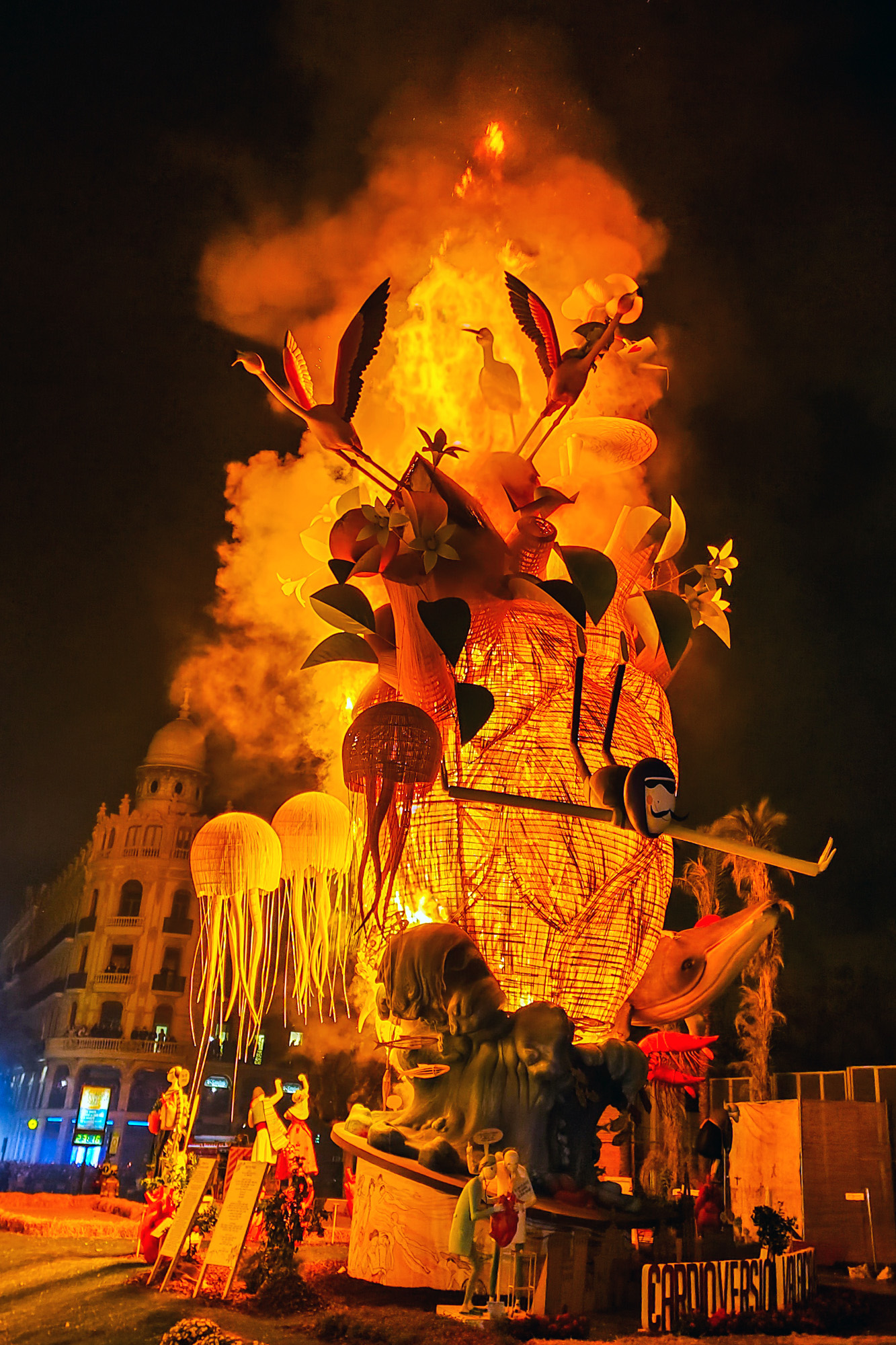 We had the chance to see the Municipal figure burn at the Plaza del Ayuntamiento, from close-up. This was a monument of Valencia's giant heart, complete with smaller ninots that represented various important aspects of the city, and we couldn't wait to see it burst into flames. This being Valencia, there was naturally a fireworks display before the Cremà, and Pirotecnia Valencia put on an amazing show before striking a match to burn the Ayuntamiento's 2023 figure.
We were standing pretty close, ready to film and photograph every terrifying second of this burning. After the fireworks concluded, we could spot was a faint flicker inside the heart – a little flame had just been ignited. You could hear the wood slowly cracking while catching fire. There was an odd silence in the plaza even though it was filled with thousands of people. And then VROOM the entire figure was suddenly in flames. It happened so quickly and so violently, we were totally taken by surprise.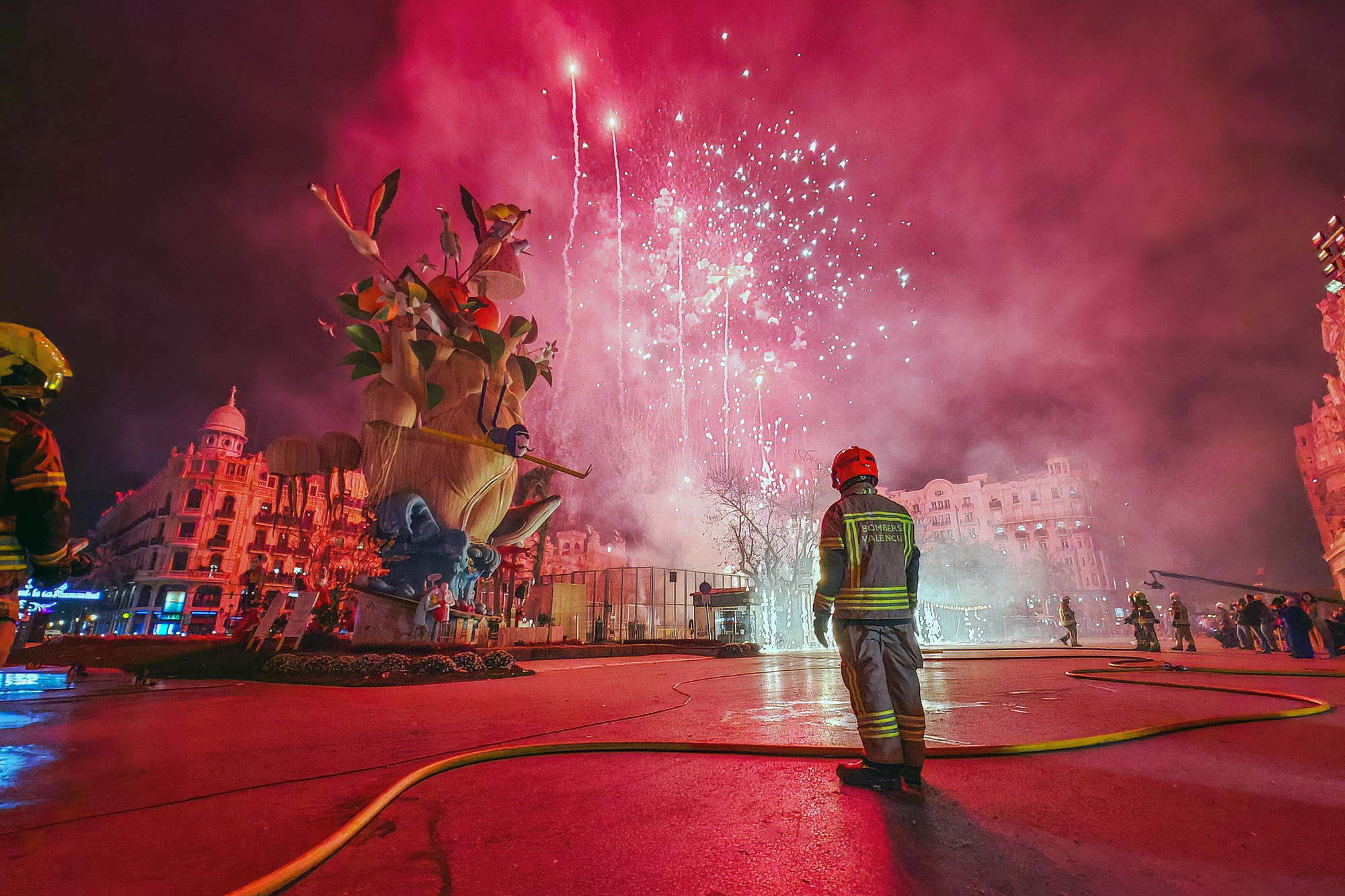 The heat was so intense that we had to move a bit towards the side. One moment longer at that spot, and we'd probably have had our faces melted off. I seriously had to look at my gear to see if the heat had damaged the plastic of my cameras! But it was all good. Within minutes the only thing left standing was the inside supporting frame. And then… hold on! The burning construction started to fall over! From where we were standing, it looked like it was going to hit the fireman.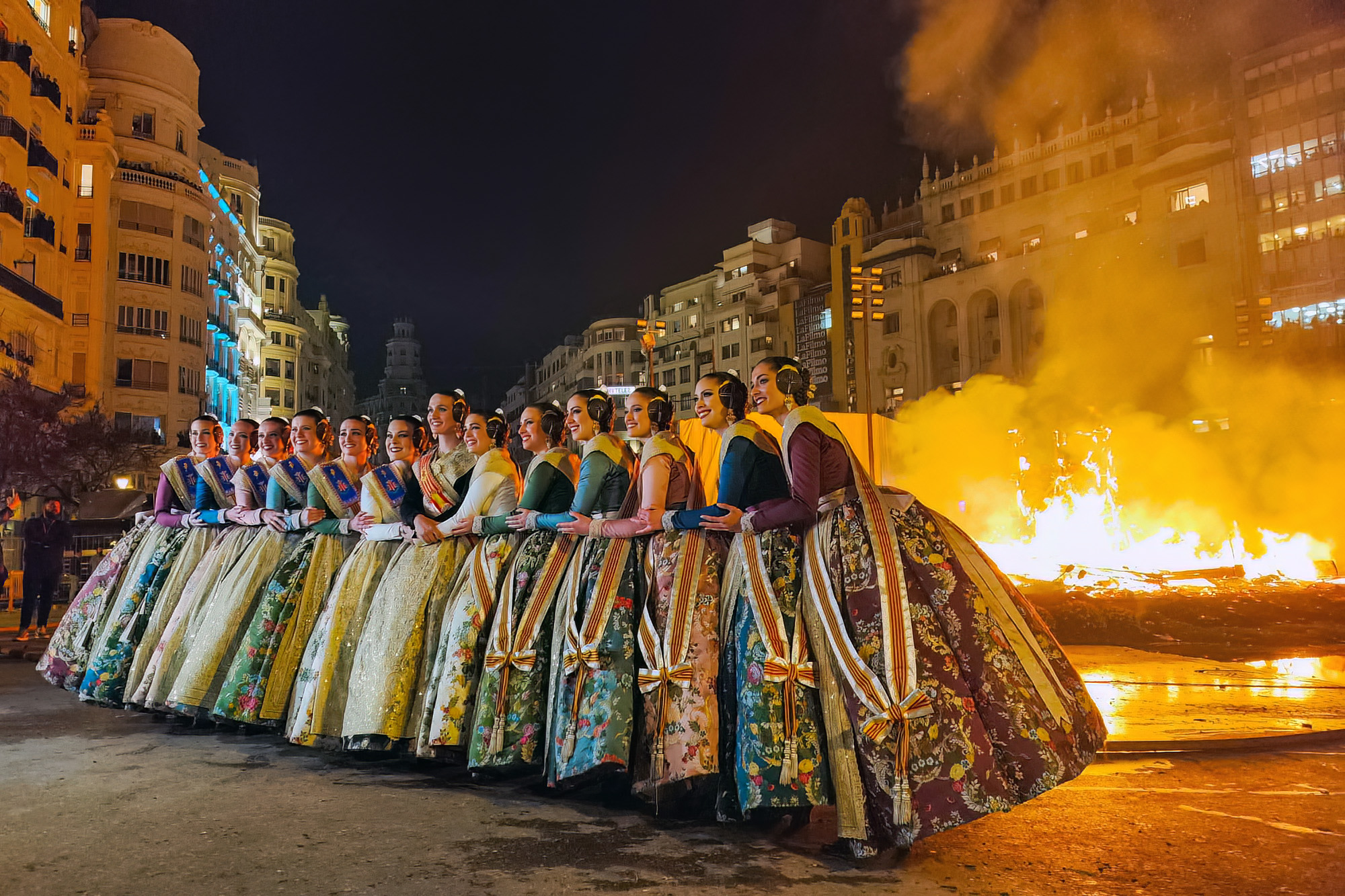 As the final remaining chunks of the figure burned, the court of the Fallera Mayor descended from their VIP balcony to take a closer look, pose for pictures, and indulge in some tears. This is always an emotional moment for them, as their special Fallas had come to an end. But it hadn't ended for us, yet, because we still had time to catch at least one more cremà. We set out, roaming the streets of the city center, hunting for figures that were still intact.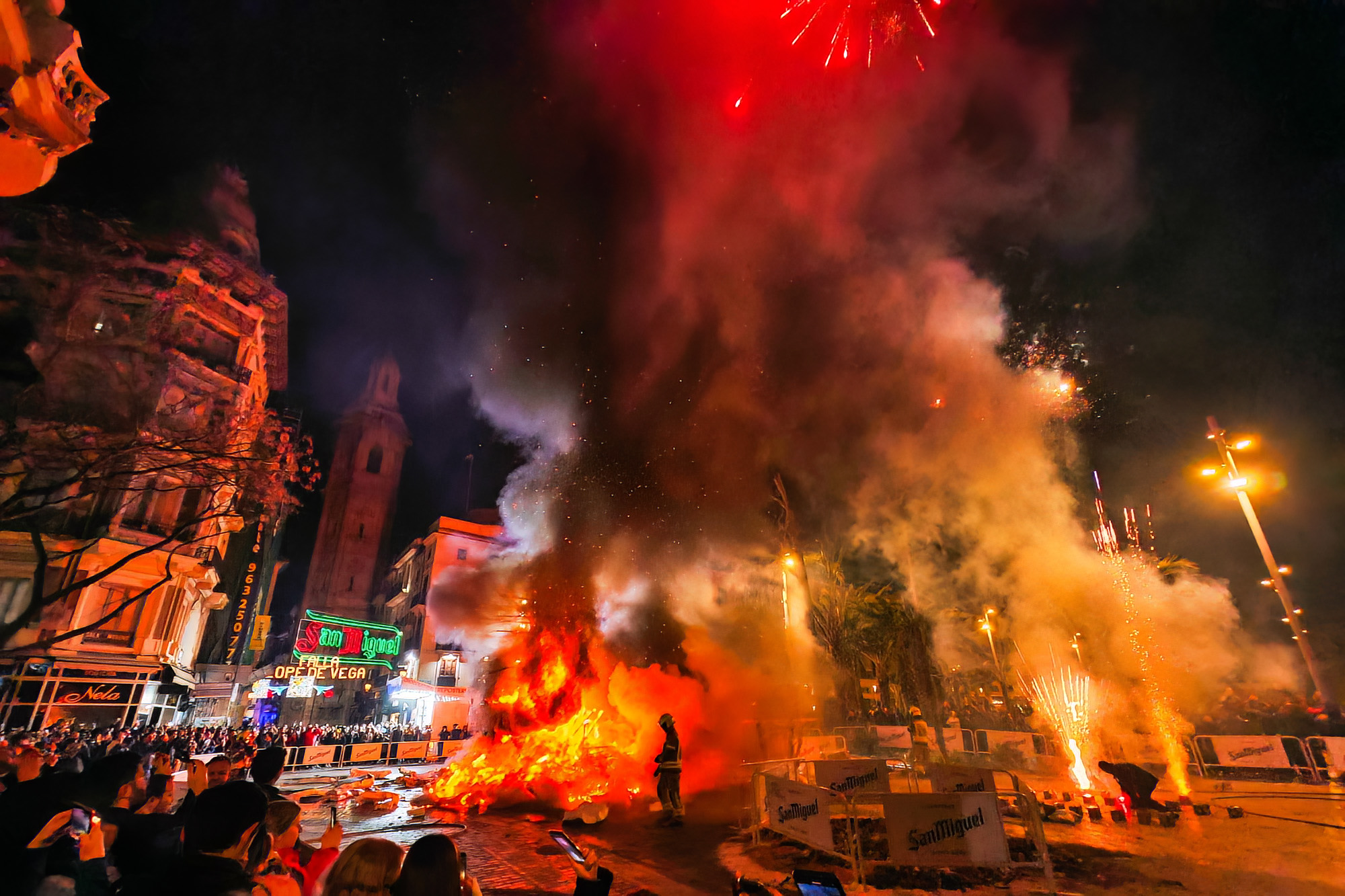 Finding figures that weren't already in flames wasn't as easy as we thought! We started to get a little frantic, desperate for more FIRE before finally coming upon the huge bust of Joaquin Sorolla, by the artist ESCIF, still standing at Plaza de la Reina. We found a good spot, and waited to watch this figure burn, having no idea what we were about to witness. Soon, they set fire to a "traca valenciana" to signal the start of the Cremà. And this one turned out to be even more insane than the burning we'd seen minutes before in the Ayuntamiento.
We've seen a lot of cremàs over the years, but we've never seen anything like this. The figure didn't just burn — it exploded! Not one, but two massive explosions sent debris flying into the air! I'm not sure whether that was the intention or not, but it definitely took all of the spectators by surprise. With an intense firework show wrapping up this cremá, this was a thrilling, perfect way to end Fallas 2023. By now, we were ready for bed, and for some peace and quiet, which would return to the city's streets the very next day.
More Photos of the Cremà of Fallas 2023: