A Fireworks-Filled Day of Fallas 2023 – March 4th
We do love the main days of Fallas, March 15th to 19th, but our favorite time are the weeks leading up to those days. There are so many things going on: parades, the Plantà, and tons of fireworks events which don't yet have huge crowds. March 4th was such an incredible day for fireworks; we were able to see five big fireworks in just a signle day. There were actually so many that we had to sit down and plan out the day, plotting an itinerary that would allow us to catch as many shows as possible. Even then, we couldn't even see all of the fireworks that day, because some of them were shot at the same time or the distances between them were too large to make it on time.
March 4th Mascletà – Fallas 2023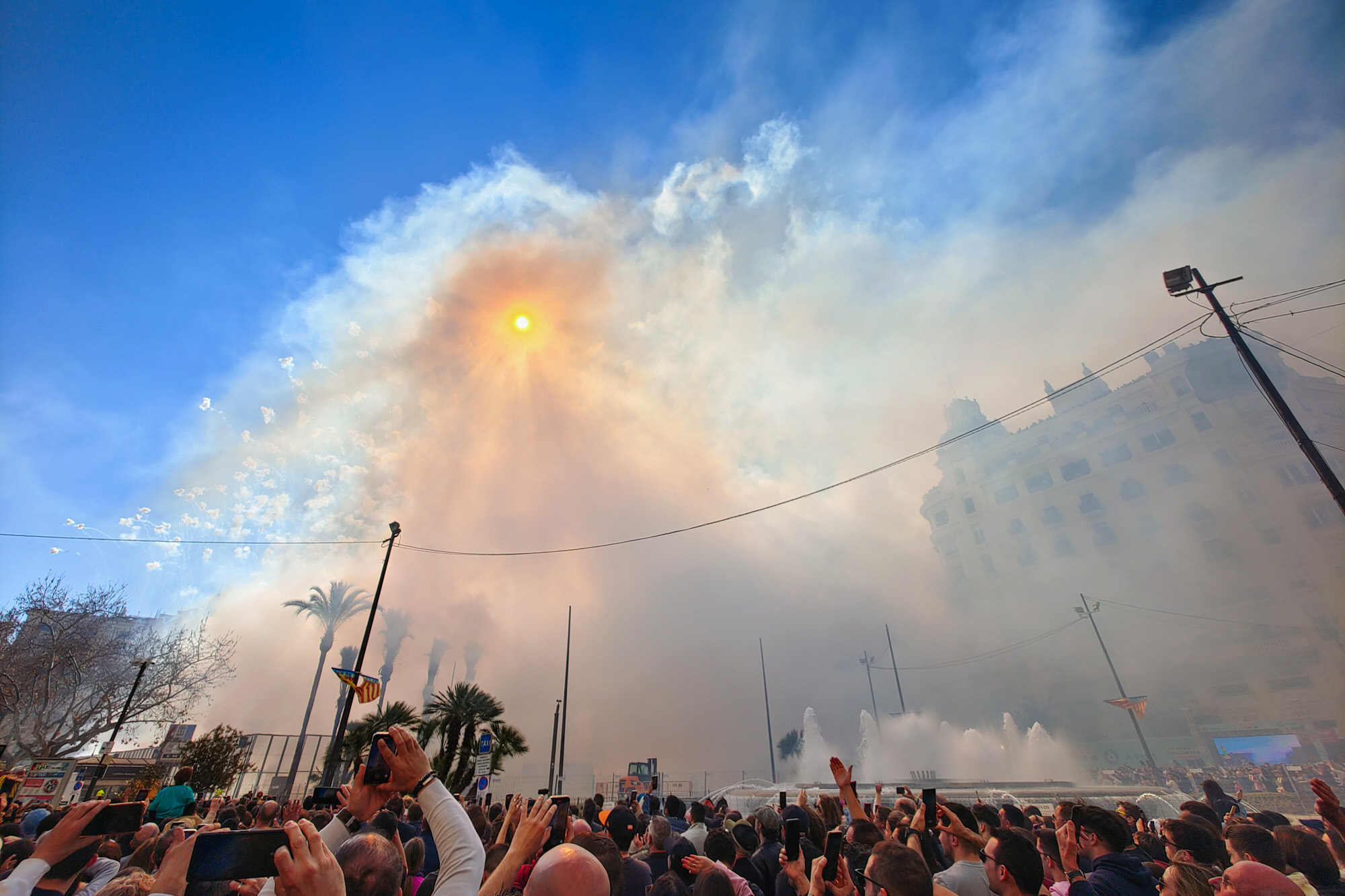 The day full of fireworks started out with for us with the regular 2pm mascletà by Pirotecnia Gironina. This time, we were standing on the other side of the fountain, which was a great decision for that specific day, since we didn't get covered in the gunpowder cloud, and could actually see what was going on. Both the fireworks and its immense cloud of polvora looked absolutely beautiful against the sun. The finale got the crowd going crazy!
Post Cabalgata del Ninots Fireworks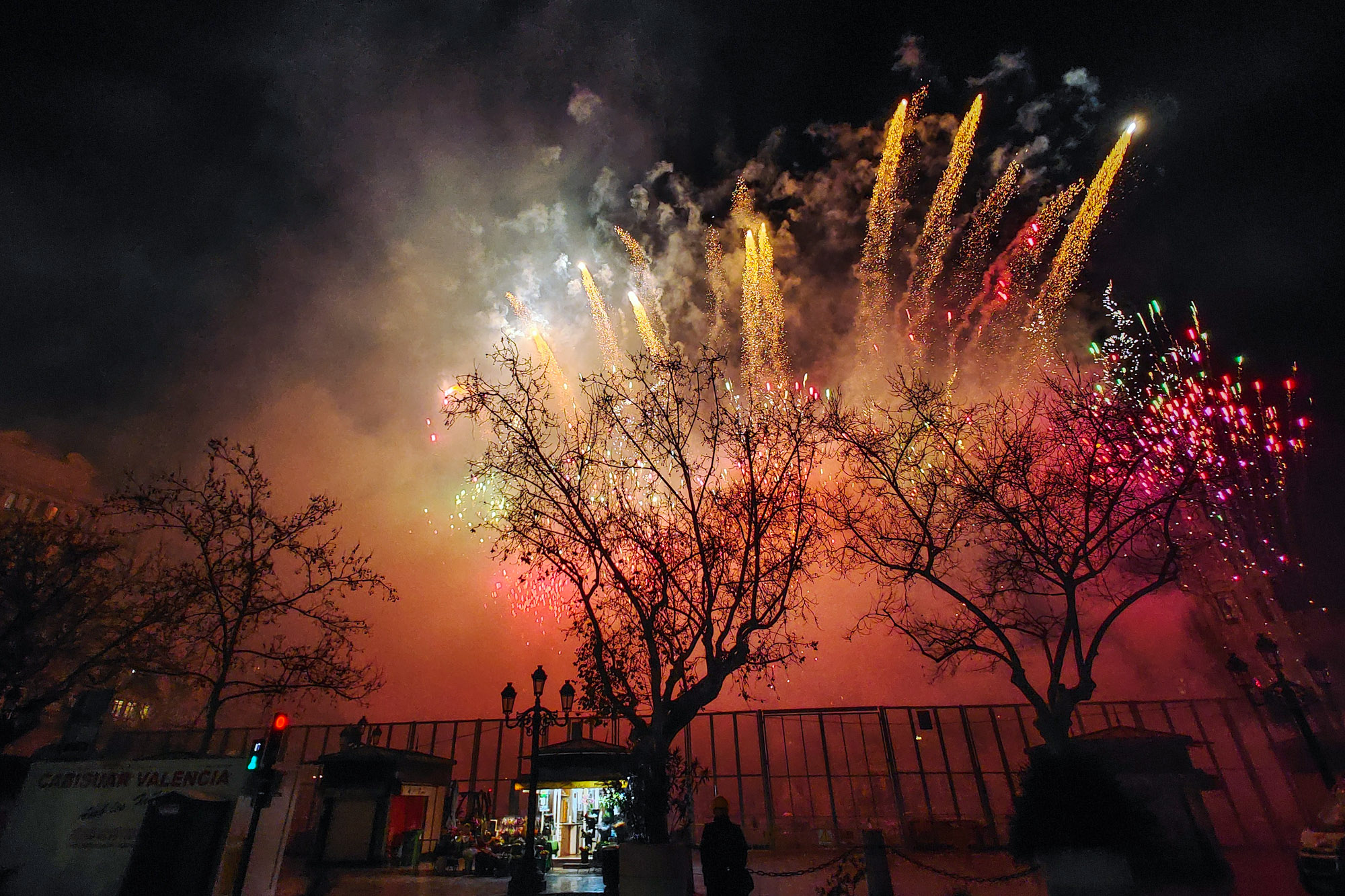 We just wrote about the Cabalgata del Ninots, so won't be going into further details about that parade, but there's always a fantastic firework shot off at the procession's conclusion. Good luck, though, figuring out when that is. Nobody can ever say when exactly the parade will end. This year the Cabalgata started at 5:30pm, but it wasn't until about 8pm that the show began at the Plaza del Ayuntamiento. This put us in a bad position, because we had to make it to Canovas for our next display at 8:30. But the fireworks, shot by Pirotecnia Gironina, were colorful and loud and we got front row seats, so it was worth the stress.
Mascleta Nocturna – Pólvora a la Vespra – Pirotecnia Caballer FX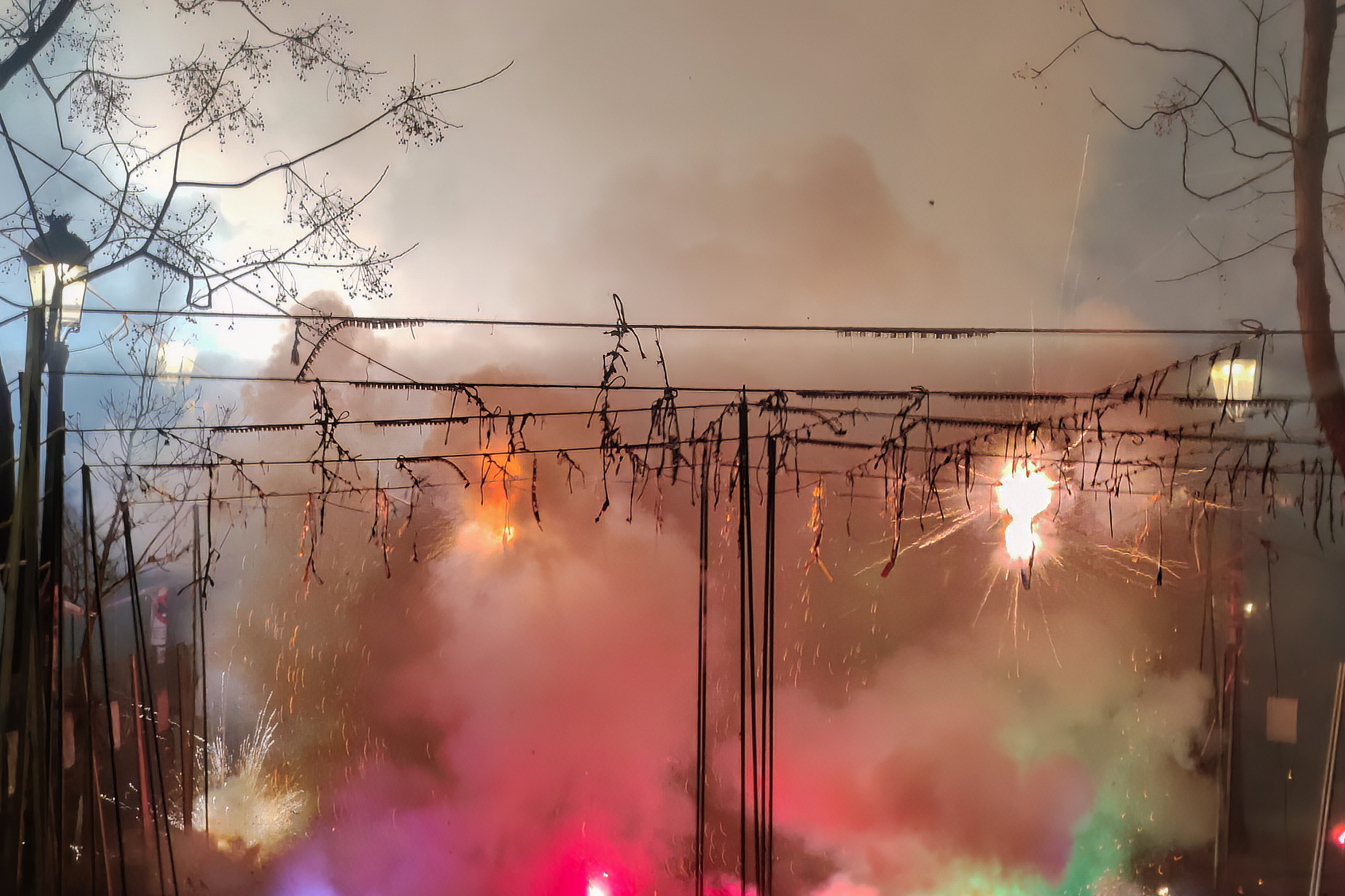 Two years earlier, we had gone to a firework held in this same location in Canovas. At the time, we wrote that this was probably the most crazy and violent Street Mascletà ever. Well, maybe until this one, shot by Pirotecnia Caballer FX. It's hard to believe that they shot this massive Mascletà in this tiny street with people being inside these buildings (we personally would have loved it seeing this firework from our living room window). If you find yourself in Valencia for this firework, which is part Fallas' "Pólvora a la Vespra" event, be warned! This firework is not for Mascletà virgins!
Experimental Firworks Falla Convento Jerusalén – Pólvora a la Vespra – Pirotecnia Aitana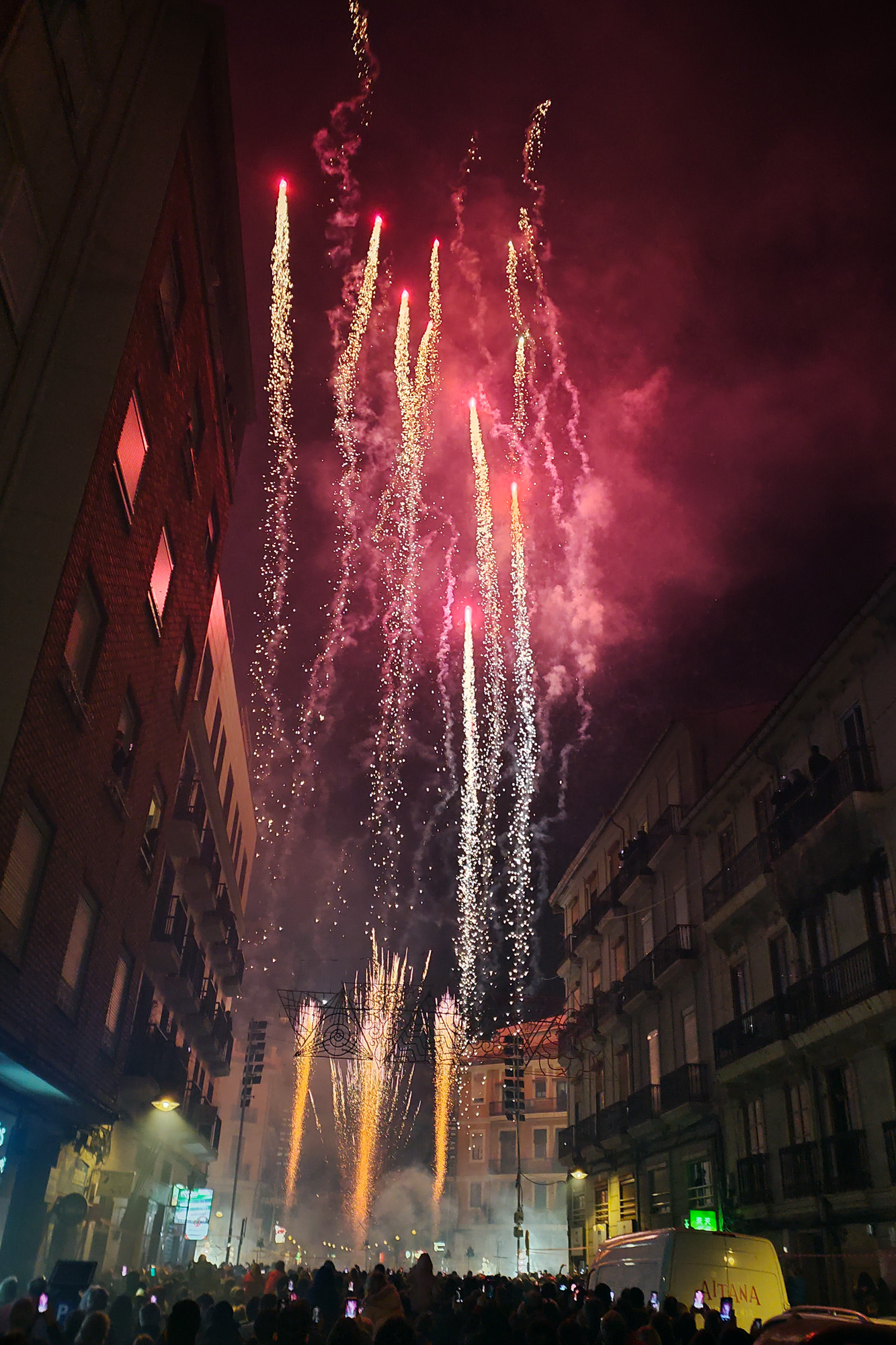 By now we were out of breath — the display in Canovas was our third firework of the day, and we had to hustle to make it to #4. With only ten minutes to spare, we made it from the Falla Maestro Gozalbo – Conde Altea over to Valencia's Chinatown in time for this experimental firework which was also part of the Pólvora a la Vespra, shot by Pirotecnia Aitana. This was extremely frustrating, because we got an amazing spot but gave up on the firework, since other people were leaving saying that the firework has been delayed. We packed up our gear and almost hopped onto our bikes until … BOOOM! First warning shot! Despite having given up our great location, it was still an incredible show. Actually, "amazing" is probably the better word!
Mascleta Nocturna – Pirotecnia Valencia – Campanar – Firwork #5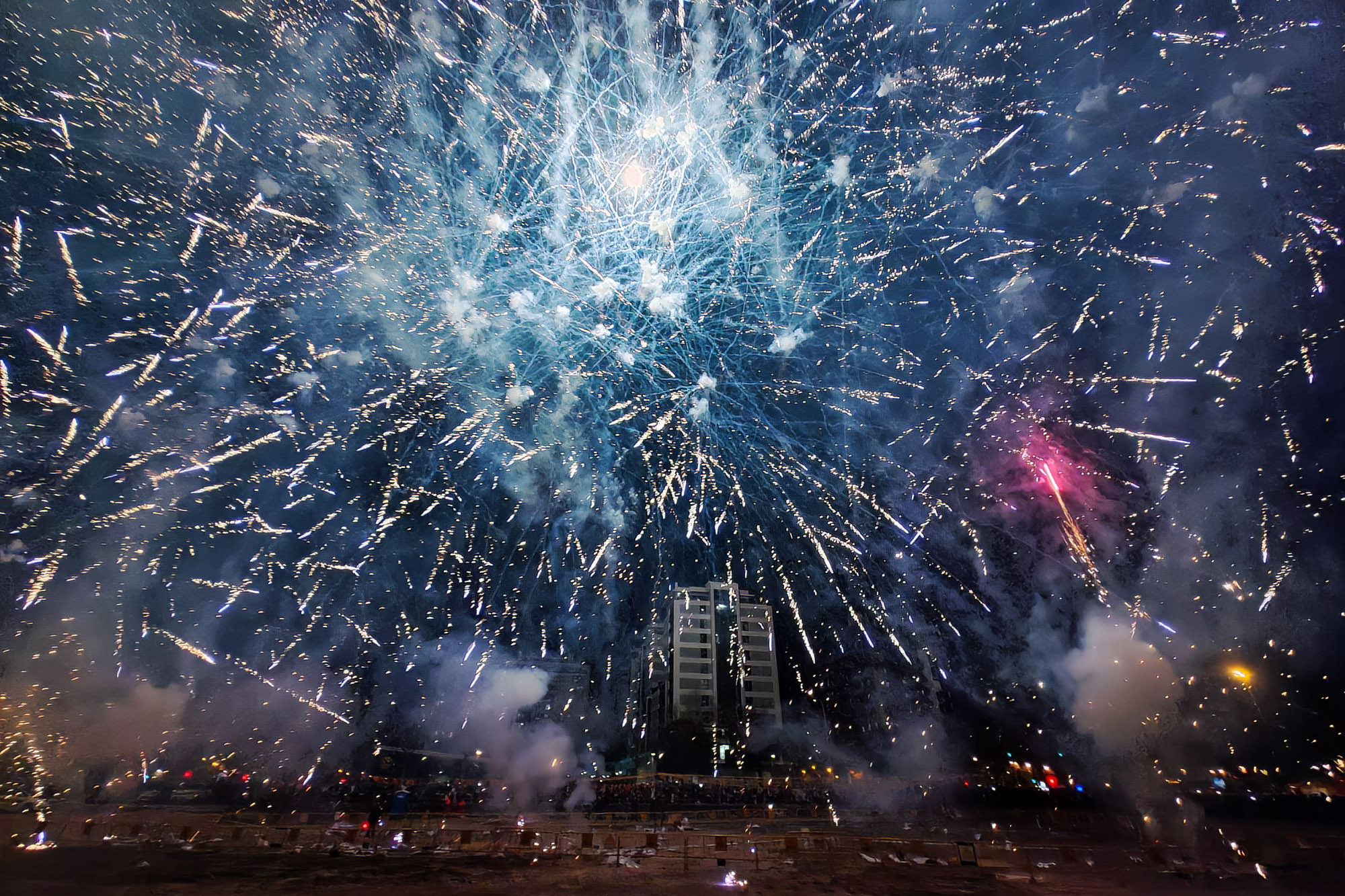 The final firework of the day was shot at 11pm in Campanar. We had enough time to get some dinner and have some beer to recharge the batteries, depleted from running around like maniacs during the day's firework-hunts. This display was the perfect way to end the day, Pirotecnia Valencia gave it their all. At two moments during the show, we thought things were about to explode right into our faces. But no worries, we were safe. All these fireworks were a great preparation for the main days of Fallas 2023.
More Photos from the Mascleta by Pirotecnia Gironina:
More Photos of the Cabalgata del Ninots Fireworks:
More Photos of the Mascleta Nocturna by Caballer FX:
More Photos of the Experimental Firework in Valencia's Chinatown:
Night Mascleta Pirotecnia Valenciana in Campanar: